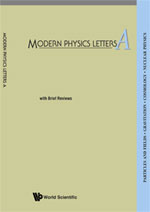 A recently-accepted article - Demonstration of Communication Using Neutrinos - that appeared in World Scientific's journal Modern Physics Letters A (MPLA) has been featured in well-respected magazines such as The Economist, Popular Science and New Scientist.

The article describes the invention of the first neutrino-powered telephone by a group of Fermilab physicists that could possibly pave the way for other applications like broadcasting and communicating with other intelligent life forms in contrast to photons, neutrinos are able to pass through matter almost undisturbed. The research has brought considerable positive spotlight on the practicality of particle physics since it has been looked upon as otherwise by its critics.

Dr Kok Khoo Phua, the Chairman and Editor-in-Chief of World Scientific, also a high-energy physicist by training, said, "We are very proud of MPLA; this piece of news is a testament to the quality of the journal and its capable team of editors who ensure the timely publication of the journal."

In conjunction with this announcement, World Scientific will grant free access rights to this article until the end of April 2012. The article can be accessed via http://dx.doi.org/10.1142/S0217732312500770.

More information on the articles can be found at The Economist, Popular Science, and New Scientist.

More information on the journal can be found at http://www.worldscinet.com/mpla/. If you would like to recommend the journal to your library, please click here.

About World Scientific Publishing Co.:

World Scientific Publishing is a leading independent publisher of books and journals for the scholarly, research and professional communities. The company publishes about 500 books annually and more than 120 journals in various fields. World Scientific collaborates with prestigious organisations like the Nobel Foundation, US National Academies Press, as well as its subsidiary, the Imperial College Press, amongst others, to bring high quality academic and professional content to researchers and academics worldwide. To find out more about World Scientific, please visit www.worldscientific.com.

About Modern Physics Letters A (MPLA)

This letters journal, launched in 1986, consists of research papers covering current research developments in Gravitation, Cosmology, Nuclear Physics, and Particles and Fields. A Brief Review section has also been initiated with the purpose of publishing short reports on the latest experimental findings and urgent new theoretical developments. For more information, please visit here.