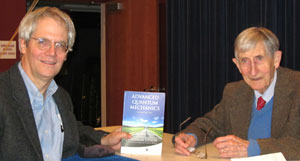 Advanced Quantum Mechanics, 2nd ed., co-authored by Professor Freeman Dyson, a distinguished quantum physicist from Princeton, will appeal to a large audience among physicists, mathematicians, and graduate and undergraduate students, just as the 1st edition had been a bestseller.

At a recent launch of his new book held on February 24, 2012 at the Paul Robeson Center for the Arts in Princeton, NJ, attended by about 40-45, Professor Dyson presided over a Q&A session, and this was followed by book signing, with light refreshments being served.

Professor Dyson discussed the book and its history, after which the floor was open for questions for the audience. The lively exchange covered questions ranging from scientific queries on quantum mechanics to personal stories about knowing Einstein and John Nash - as Professor Dyson has lived in Princeton for over 50 years. David Derbes, the transcriber of the book, flew in from Chicago for the event and signed some copies of the book as well. The launch turned out to be an eventful and enjoyable experience for both the author and the audience.